Assignment 1:
Thanks for having a review of this. It looks like it should be something I revisit often.
Assignment 2:
It's great to listen to someone who is very eloquent in their discussion of books. She give just enough information to let you know what the book is about, but not enough to give it away or make it seem uninteresting.
Assignment 3:
Conversation 1) You might like No Baggage: A Minimalist Tale of Love and Wandering by Clara Bensen. An expansion on her article about her craziest OKCupid date, this is a book about a woman who meets a really energetic professor and on their first date they agree to go travel the world with no plans, no hotel reservations, and no luggage. It's an interesting story of relationships, adventure, and stepping out of your comfort zone.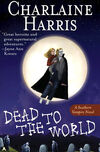 Conversation 2) I personally really like the Sookie Stackhouse series by Charlaine Harris. While it does have a bit of angsty romance, it's got a lot of adventure and humor. They're a fun read and easy to get through the whole series.
Conversation 3) There's a new book out called
The Bad-Ass Librarians of Timbuktu
by Joshua Hammer. Though it's a title worthy of a cable show, its the true story of a Haidara, an archivist and historian who helped smuggle manuscripts out of Timbuktu after Al Qaida militants enacted Sharia law and began destroying the literature.